# The charm of acting? Finding the answers one by one.
Compared with the two dramas ‹Protect the Boss› and ‹Dr. Jin›, the result of this movie fell short of expectations. Nevertheless, it broke with precedent and he showed enthusiasm in the interviews. Even though the movie was already released, the media is still looking to engage with him.
"As an actor, it's meaningful to me because it was an opportunity to show a different kind of acting. I also considered other movies but the characters in this movie appealed to me."
"When I played Kim Kyungtak in ‹Dr. Jin›, the burden was big because after ‹Protect the Boss›, Kim Kyungtak was also a heavy role. I tried hard to avoid comments such as 'Here he acts like that again'. It was good that Choi Hyun wasn't a serious character. I don't even know how long it's been since I was able to show a bright and playful image."
As a member of idol group TVXQ and then JYJ, he maintains top position in Asia. However, positioning himself as 'actor Kim Jaejoong' is different. Unlike many singer-origin stars who debut in acting with a title role, he did not rush and received good and favorable evaluation for his clever choices. 
"Surely large amounts of screen time and high ratings are great. However if I want to take on a long path as an actor, I think my choices weren't bad. Kim Kyungtak in ‹Dr. Jin› wasn't an easy decision but it has become an important stepping stone for me. Instead of a main role in a blockbuster, finding the unknown answers one by one is indeed the true charm of acting to me."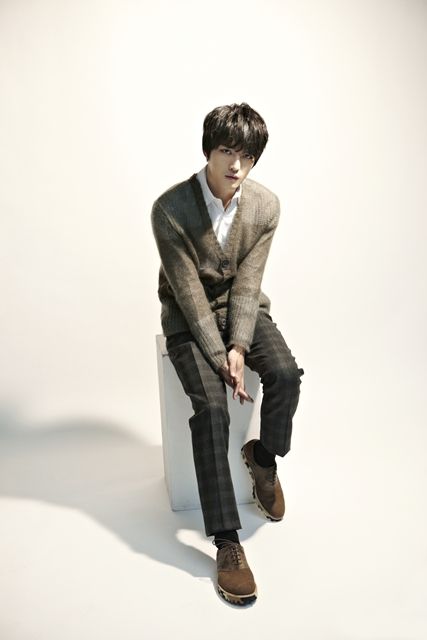 # "I always look for a medium in which to communicate with fans"
After 3 years and 4 months, the dispute with former agency over the exclusive contract has ended. Although he has finally found his freedom, it's hard to expect immediate changes.  Managing to follow the path he has been walking until now, he can't do anything other than wait for a change in activity environment.
"I always look for a medium in which to communicate with fans. I don't want them to only remember and support an image of mine that they have seen in the meantime. Therefore, we appeared in movie and dramas, held fan-meetings abroad, released albums, held world tour. Although I can comfort myself that I am still young and have much time, it's so unfortunate that we can't appear on TV. It's like we lost the biggest weapon."
"I think the fans that support us are more depressed [than us] as we don't have much activity," Kim Jaejoong revealed the reason why they keep working without break. Three members already made a significant number of songs; JYJ will release an album next year and meet with fans around the world again. "There will be Korean songs as well as English songs. The possibility of collaboration with international artists is also opening up."
"There are many things I want to try besides movie-drama-singing. I want to direct concerts, work on music for other singers and also star in plays and musicals. If I put my mind to it, I have confidence that I can get a certificate in Korean cuisine in just 2 weeks. Also, I can do very well if I can appear on variety shows. Ha ha."
Source: Metro Seoul
Translated by: Hannah @ PrinceJJ
Shared by: PrinceJJ
Please take out in accordance with our rules.